Description

REALIZING GLOBAL IMPACT THROUGH COLLABORATION
2022 NJHSA & NAJC Joint Annual Conference
Minneapolis Marriott City Center
Sunday, May 15th–Tuesday, May 17th
NAJC programs continue through noon Wednesday, May 18th
We look forward to seeing you!
Join the Network of Jewish Human Service Agencies and Neshama: Association of Jewish Chaplains (NAJC) in addition to a wide range of Network stakeholders including NJHSA agency professionals and lay leadership, spiritual care specialists and chaplains in NAJC, partner organizations, funders, and the corporate community.

This conference will help to chart a direction for each attendee and help the Jewish human service sector to continue its efforts to thrive in our ever changing world.

You're invited to share your successes and your challenges, your thought processes, and your experiences during these changing times through a variety of workshops highlighting Advancing Diversity, Equity, Inclusion and Racial Justice, Chaplaincy Services/Spiritual Care, Crisis Response, Growth & Change, and Workforce Development Initiatives and Collaborations.
---
HOTEL
Minneapolis Marriott City Center | 30 South 7th Street | Minneapolis, MN 55402
(612)349-4000
Group Rate: $179/night
Click HERE to book your group rate for PowerNet 2022 or Call 1.866.315.9403 and reference PowerNET 2022, NJHSA or NAJC.
HOTEL AND PowerNET REGISTRATION DEADLINE: FRIDAY, APRIL 1st
---
COVID HEALTH AND SAFETY POLICY
**All attendees of the event will need to show proof of vaccination and booster.**
Registration will ask that attendees agree to the statements below:
By attending this conference, I agree to participate in and abide by all safety protocols implemented on site. This may include up to (but not limited to): wearing masks in public spaces, practicing social distancing, providing proof of vaccination, and being administered the booster.
I agree NOT to attend the conference in person if I am experiencing or exhibiting any COVID-19 related symptoms as outlined by the Center for Disease Control and Prevention (CDC), such as fever, dry cough or shortness of breath. For a list of symptoms from the CDC, click here.
I agree NOT to attend the conference if I have become recently exposed to a person with a positive and confirmed case of COVID-19 or if I have experienced any symptoms associated with COVID-19 within the past 14 days.
By registering for PowerNET 2022, I expressly agree to adhere to any and all COVID-19 protocols implemented by NJHSA & NAJC, any facilities or venues at which the event is to be held, or any third-party organizations providing services, recreation or entertainment at the event. Agreement by you to comply with applicable COVID-19 protocols is a condition of attending this event.
I acknowledge the contagious and evolving nature of COVID-19 and voluntarily assume the risk that I may be exposed to the virus and become infected as a result of my attendance at the PowerNET 2022. I voluntarily agree to assume all of the foregoing risks and accept sole responsibility for any expense, liability, illness, injury, disability or death related to testing positive for the virus during or after the event. I hereby release, covenant not to sue, discharge, and hold harmless The Network of Jewish Human Service Agencies (NJHSA) and Neshama: Association of Jewish Chaplains (NAJC) from all claims arising out of COVID-19. I understand and agree that this release of liability includes any claims towards The Network of Jewish Human Service Agencies (NJHSA) and Neshama: Association of Jewish Chaplains (NAJC), as well as conference personnel or representatives, whether a COVID-19 infection occurrence exists before, during or after attendance and participation at the event.
Our Conference will be following the City of Minneapolis' COVID policy.
---
REGISTRATION FEES
All registrations include Sunday lunch, participation in the evening Networking Receptions on Sunday and Monday, breakfast on Monday and Tuesday and a refreshment break. If you are staying for the NAJC extended programming, lunch and dinner will be provided on Tuesday.
There are two off-site offerings on Sunday morning: Executives' Briefing and Lay Leadership Plenary. Both will take place at JFCS Minneapolis at the same time (please only sign up for one). Bus transportation and a Kosher continental breakfast will be provided.
Note: All hotel meals that are offered by the conference are under strict kosher supervision by Minnesota Kosher Certified. Additional optional kosher meals certified by Minnesota Kosher are available at Vitali's Cafe in the Hyatt Regency which is a 15-minnute walk from the conference hotel. Vitali's Cafe will be open to provide breakfast lunch, and dinner for those who desire to go there. While you can walk to this facility, other transportation is available at your expense.
NJHSA Member Agency Professional/Lay Leader - $695
Discounted Registration (operating budgets up to $3 million) NJHSA Member Agency Professionals - $550
NAJC Individual Member - $525
Non-Member Agency Professional/Lay Leader - $795
One-Day Rate - $350 (includes meals offered that day)
Guest/Spouse - $350
Additional meals will be available upon registering including:
Optional Kosher Dinners on Sunday & Monday (on-site) - $95
NJHSA Monday Board Member Luncheon (on-site) - $85
Optional Monday Group Lunches (on-site). Sit with an affinity group or at unmarked tables. - $75
Optional Monday Dinners (off-site). Signups to come with local restaurants.
Optional Kosher breakfast on Wednesday (on-site) - $55
DISCOUNTS
We are pleased to offer Group Discounts to NJHSA member agencies sending four (4) or more staff to the Conference. We will deduct $75 for each full registration over the 3rd registered attendee (from the member agency). Following attendance at the conference, a rebate check will be prepared and sent to the agency. Please direct questions to Karen Rosen.
---
PAYMENT
*Payment Must Be Made in US Funds* Credit cards and checks will be accepted as payment. Checks should be made out to NJHSA and sent to:
NJHSA | 50 Eisenhower Drive | Suite 100 | Paramus, NJ 07652
Note: Cancellations and/or requests for refund must be emailed to Karen Rosen at krosen@networkjhsa.org by April 1st. A $100 charge will be applied to cancellations following April 1st.
---
Learn more about the Sunday Opening Plenary Lunch with Jeffery Solomon, "Reflections On Challenging Times: Lessons from the Past for the Future."
---
SPONSORSHIP
We are excited to be joined by our sponsors and partners this year. View the PowerNET 2022 Conference Sponsorship Packet here. Sponsors are in formation. Check back often to see who will be at PowerNET 2022.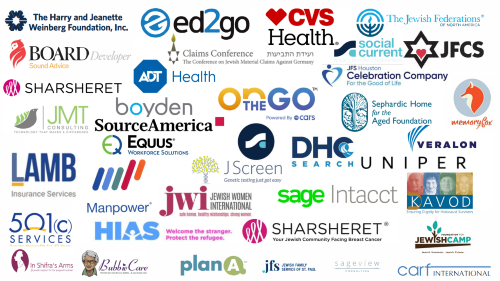 Our goal is for everyone to leave PowerNET 2022 with important takeaways, a renewed commitment to our Network colleagues, and exceptional strategies to strengthen your work and your communities.
We can't wait to see you IN PERSON!
PowerNET 2022 Conference Committee
Chairs
Sandy Muskovitz Danto | NJHSA Board Member
Danielle Hartman | President & Chief Executive Officer | Ruth & Norman Rales Jewish Family Services
Robert Jury | Rabbi, Cantor | NAJC
Committee
Avrohom Adler | Executive Director, Strengthening Families | Jewish Family Service Association of Cleveland
Dan Arnold | Director of Clinical Services | Jewish Family and Career Services, Atlanta
Chaplain Hagar Ben-Eliezer, BCC | Chaplain & Wellness Therapist | Hillel at University California Berkeley | NAJC
Al Benarroch | Executive Director | Jewish Child and Family Service, Winnipeg
Linda Burger | Chief Executive Officer | Jewish Family Service, Houston
Rebecca Carl | Cantor | Chaplain, Children's Hospital of Philadelphia
Tanja Demajo | Chief Executive Officer | Jewish Family Service Agency, Vancouver
David Dern | Director of Development | Jewish Family Services of Ottawa
Pia Eisenberg | Senior Vice President, Community Engagement | Jewish Family & Children's Service of Greater Philadelphia
Tara Feiner | Executive Director | Jewish Family Services, Jewish Federation of Greater Dayton
Jenni Frumer, Ph.D., LCSW, MSEd, | Director, NOW for Holocaust Survivors | MorseLife Health System
Paul Groch | Vice President, Operations | Jewish Family & Children's Service of Greater Philadelphia
Judy Halper | Chief Executive Officer | Jewish Family & Children's Service of Minneapolis
Elise Herzig | Executive Director | JIAS Toronto
Robert Hyfler | NJHSA Board Member
Lynn Liberman | Rabbi | Community Chaplain, JFS St Paul
Marla Meyers | Executive Director | Samost Jewish Family & Children's Service of Southern NJ
Howard Olshansky | Executive Director | JFS Charlotte
June Ridgway | Director, Resource Center and AgeWell Cincinnati | Jewish Family Service of Cincinnati
David Rosenberg | Senior Vice President, Programs and Strategy | Jewish Family & Children's Service of Greater Philadelphia
Elaine Rotenberg, Ph.D | Clinical Director/Licensed Psychologist | Alpert Jewish Family Service, FL
Judy Sacks | Jewish Community Liaison | Jewish Vocational Service, Boston
Limor Schwartz | Executive Director | Raleigh-Cary Jewish Family Services
Diane Squadron | Chief Executive Officer | Jewish Family Service of MetroWest New Jersey
Dina Stambler | Program and Outreach Manager | Raleigh-Cary Jewish Family Services
Roselle Ungar | Executive Director | Jewish Family Service of Greater New Orleans
Zoe Van Raan | Rabbi
Sarah Welch | VP, Workforce Development Services | NJHSA
Jeffrey Zirulnick | Chief Executive Officer | JARC FL
| | | | | | |
| --- | --- | --- | --- | --- | --- |
| | | | | We hope to see you in May! | |
NJHSA is dedicated to the inclusion of all members of society regardless of age, gender identity, race, religious affiliation, sexual orientation, or abilities. If you would like to request specific accommodations to enable you to participate fully in a program or an event, or have general questions about the ways in which we strive to create an inclusive atmosphere, please contact NJHSA's Chief Program Officer, Lisa Loraine Smith at 201-977-2542.